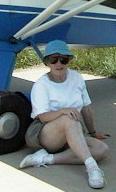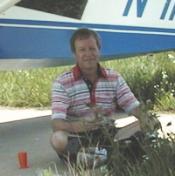 Current River Kayak Trip
7/6/00 - 7/9/00
We began thinking about a paddling trip to somewhere in May, but planning began in earnest the last week of June when Edwin began searching for a shuttle person on the Current River. Since we had already traveled on two upper portions in previous trips, we settled on the portion from Van Buren to Doniphan, Missouri. An acceptable time frame was agreed upon and Edwin called Rocky River Resort and talked to Virginia, the owner, who said her husband Bill would meet us at the Doniphan airport when called. We then began to form checklists. An evening set aside for a meal and seeing slides from previous trips popped up on the calendar, which helped to refresh our memories about what we would need for this journey of 35 miles.
On Thursday, July 6th, we met at Edwin's, threw in backpacks of red, blue, green, and assorted other colors and sizes into the back of Edwin's BMW. Nell tossed down 2 Dramamine and we headed for Lucien Airport near Edwin's house. He had already stowed the huge canvas bags containing the kayak into the back of the plane, after having removed the back seat. We lifted off at 11 a.m. and arrived in Doniphan at about 1:30 p.m. after a smooth flight.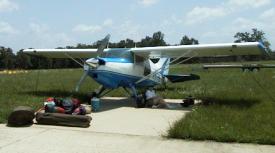 Edwin called Rocky River Resort and in about an hour Bill came for us. Meanwhile, we sat under the wings and ate our noon meal - peanut butter and jelly sandwiches and juice. Edwin tied down the plane and we unloaded all camp gear. Then Bill helped us put things on his trailer and in his van for the 1 hour trip to river side.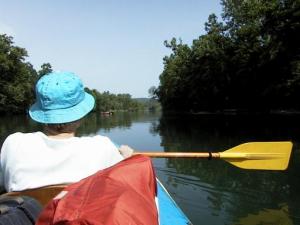 Edwin put the kayak together at riverside near Van Buren, with some assistance from Nell (45 minutes) and launched at about 4 p.m. About 20 minutes downstream an onlooker who was basking in the shade on east shore called us over and asked questions about Edwin's kayak. He said he and his wife had decided at an early age to live on the river since this was where they wanted to retire. This conversation took place while his hound dog was scooping up sticks from the sandy wet shore with his nose and ended when some of his acquaintances swung in from the river.
We decided fairly quickly to find a campsite early and did so about 2 miles down from launching site on a gravel bar facing a wall of green, foliage-covered granite about 200-300 feet up. This site was identified as Granite Quarry Bluff.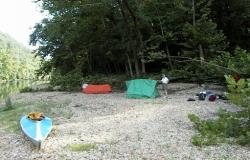 My tent went up as Edwin set up the kitchen from his red bag. He had prepared beef stroganoff from home, so while that was heating on his neat little golden Svea camp stove, he chopped up the salad consisting of celery, radishes, green onions, salt, pepper, garlic salt, tarragon, and vinegar and oil. In the days when we went on trips with mutual friend, Roy McCutchan, Roy begin the tradition of fixing gin sours before the evening meal. So Edwin has not let this fine idea fall by the riverside. He prepared gin and tonics for us, along with cashews, as we surveyed the flow of the stream and surroundings sitting on life jackets.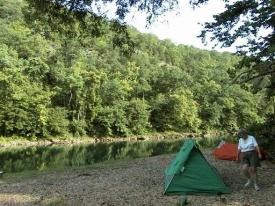 As it became dark Edwin pointed out Cygnus (the swan), Corona Borealis (3/4 circle), Bootes (the hunter), and of course the Big Dipper. Bats and lightning bugs were spotted, and soon mosquitos - who persuaded us to go to our tents about dark-thirty. Many buggy songs were heard, one lone screech owl, and one frog who was too soprano to be a bull frog and not soprano enough to be a tree frog.
Friday a.m. Nell awoke early and started pushing things around into bags. After a while I (Nell) took a catnap since all was still outside. Edwin took his early swim and soon I heard water boiling briskly and knew Edwin was at stove side with coffee cup in hand. Breakfast was eggs, sausage, biscuits (prepared at Edwin's home), and butter - the real kind. Trash bag established, we cleaned up and launched, probably around 9:30 as the sun was shining brightly.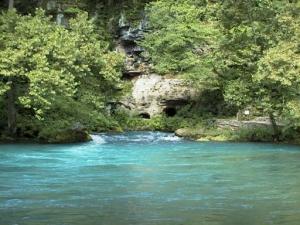 Soon we were alerted by a forest service sign telling us about one of the "must see" scenes on this river - Big Spring. An average of 276 million gallons of water flow daily through the opening at the base of very large boulders, making this one of the largest springs in the region, pulling water from as far away as 40 miles. We took advantage of the water fountain there at the National Forest campground to replenish our supply and then shoved off. Lunch on the river was Lunchables (ham, crackers, cheddar cheese), juice, raisins and chocolate pudding.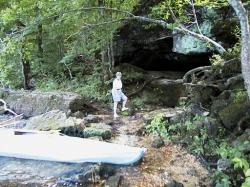 Edwin's alert eye caught the dark opening of Panther Cave and we quickly swung in and stood in the cooling (chilly, numbing) spring H2O and were reluctant to leave the very cool natural air conditioning whooshing out of the large cave. Panther Cave had large ledges on the sides which I imagined that the Indians must have used to rest on during hot summer trips. No panther sighted. I feel that many boaters passing this way never notice this very wonderful gift of nature. Edwin's research had provided this pleasing stopover.
Later in the afternoon found that we had to make a choice of a "good" campsite soon because of the late hour. We stopped at Jake's Valley Hole, a gravel bar that proved acceptable under the circumstances. While dinner was cooking, we enjoyed gin and tonic and observed that perhaps the water was flowing at 4-5 miles per hour. Dinner by Edwin's able hands, was pork chops with thyme, rice, flour gravy, green beans, and pear halves. We retired early, after taking a cool dip in the swift moving water (too swift for any swimming). Edwin's Global Positioning System told him that the river gradient had dropped about 75 feet since we first launched.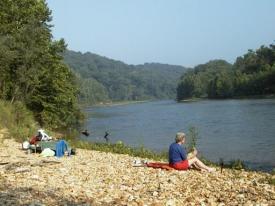 Saturday morning Nell spread out a few articles of clothing in hopes of having them dry before traveling. Breakfast was toast with butter, baked apple slices with sugar and cinnamon, and juice. We launched from a sunny site at about 9:30 a.m. In front of me were a shirt and pair of shorts needing further drying, spread over the bow of the kayak.
Not far down the river we found the inflow of water from the Twin Springs and decided to paddle up the stream for a look, as indicated by the map. Unfortunately, the stream became smaller and shallower and we were forced to retreat back to the river. Some fishermen told us that the springs were not far off the river, but we should have stopped upstream at a large gravel bar and followed the road. Oh well, maybe next time.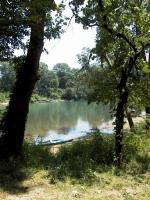 Lunch at a very well-used access point had a little shade, which we shared with a brown pup. Starkist Tuna with tomatoes and other vegetables in a can, V-8 juice, crackers, and raisins were served to sustain us until the next meal. Many motor boats kept us rocking and waving to the occupants along the river. Later we found that a bass tournament was being held, which explained why there were so many motor boats and fishermen out. We passed tubers, some with their ice coolers beside them, but only a few canoers, and no other kayaks.
We arrived at a NFS campground near the Deer Leap area early in the afternoon, pulling up on the sandy boat launching area, scouted around, finding cars and a van in the parking lot area. While Edwin conversed with a mother and her three small children, Nell walked on shore upstream and followed a path into the woods and discovered a really nice, shady, two-table campsite with facilities not far away. After unloading, we stashed the kayak half way up the weedy bank and Edwin secured it to a small tree.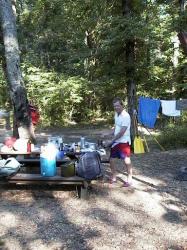 It didn't take us long to settle in and soon we were consuming the chicken-soy sauce stir fry which was inspired by a pilot friend of Edwin's. Chicken, soy sauce, bell pepper, cashews, hoisan sauce, dried red pepper (to be removed before eating!), rice, white wine, ginger root, green onions, plus the type of salad that we had enjoyed once before. This was served with chop sticks which were soon replaced (thank goodness) with forks. After the meal a clothes line was constructed. We talked with two custodians at the water faucet who told us we could obtain ice (ours completely gone) at a nearby store, but we were within 6 miles of our final destination so we passed on that. The evening's entertainment starred Edwin on the penny-whistle playing Streets of Laredo, Yankee Doodle, and Turkey in the Straw.
Sunday a.m. Edwin whipped up wonderful pancakes, served with butter and real maple syrup. Ingredients for this were not affected by the visitor to Edwin's kitchen. Earlier that morning he opened the top flap and out jumped a rodent (probably a mouse) who had eaten through a zip lock bag corner and a part of the water proof inner bag.
Sunday morning we pushed off at 11 a.m. Spotting a house, named Rancho Rio, with a large bronze plaque, we decided to investigate. The spot was named Lover's Leap, but not for the reason you might suspect. The plaque described the logging of the area in the latter part of the 19th century where logs were pulled by oxen to the river bank, rolled into the river, and tied in rafts to be floated down to the mills. It seems that one of the oxen pulling the logs was so suffering from thirst that she jumped off the bluff into the cool river and was killed on a boulder below. The young bull was so grieved that he, too, jumped off the bluff to join his lover in a happier hearafter. (Now does this change your perception of Lover's Leap?)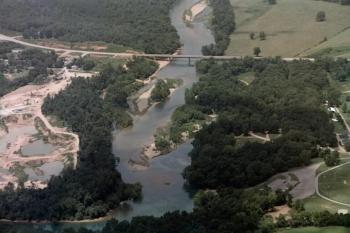 We arrived at the public boat ramp in Doniphan, our take-out point, at around 3 p.m. and were lucky to be able to sail into a shady, dry spot where we unloaded and took the kayak apart and slipped the parts back into the big heavy canvas bags which Edwin had made. We took all gear up to high ground and used my cell phone (we were successful on the third attempt) to contact RRR's 800 number about our early arrival. A large friendly, bearded employee came quickly and transported us to hot showers and air conditioning at the store where we had a cool drink and waited for Bill to take us to the airport. This happened in about 30 minutes.

We loaded the plane and headed for Thayer, Missouri, about 15 minutes away, to get fuel. An employee and his little son, who wore very high rubber boots (!) and was wearing a baby salamander on his wrist, sold us $70 worth of gas and we were off. Next stop was Lakeview, Arkansas, where we had to search for the grass airport landing strip (like a well-manicured golf course) which was situated between the hangers and Gaston's Restaurant and White River Resort.

Our last meal was outstanding. It was served to us in Gaston's Restaurant overlooking the White River. The restaurant was a museum - old tools, farm implements, washing machines, bicycles, tricycles, motorcycles, outboard motors - all hanging from the ceilings or mounted tastefully on the dark walls. Hummingbirds fed themselves on feeders hung just outside out window, along with squirrel feeders. We could see the huge White River (it was green), and the high cliffs beyond. We chose Orange Roughy with lemon, a first for me, and baked potato with sour cream or butter, hush-puppies and a loaf of golden bread. The salad bar provided an interesting array of vegetables.

Again I tossed down 2 Dramamine. We left feeling well fortified and walked across a short way to the plane to fly south and home. Nell took in the bird's eye view of the green fields, spotted the Arkansas River. Then we lifted to 10,000 feet where it was quite hazy, then into the clouds with the sun setting to our right, the white puffs turning into blue and lavender on the horizon as darkness fell. Back in Shreveport, the Lucien airstrip was lighted, but still difficult to find in the dark. The landing was smooth as we set down at 9:45 p.m. We unloaded, putting everything in the car. Edwin tied down his plane, locked it, and we were headed for his street, New London. After sorting out all, we drank several glasses of ice water while absorbing the air condition. Edwin sent me home to the west with another glass of ice water in case I became sleepy. At home, I checked out all points and prepared to fall into bed.